Follicular Unit Transplantation (FUT) or Strip Harvesting are terms referred to a previously popular technique of hair restoration surgery that required a large, horizontal incision to harvest hair follicles from the back of the head (Donor area). In this procedure, a 'strip' of skin is removed and is then carefully dissected to extract hair follicles; the donor area is later sutured to close the wound. Extracted follicles are then implanted into the skin of the desired area (Recipient area). This is considered a more invasive surgery compared to FUE as it involves removing a portion of the patient's skin and sutures.
Depending on the patient's condition and the surgeon's ability, this is sometimes used in combination with FUE to achieve the best results. At Bangkok Hair Clinic, we have demonstrated safe and natural results for patients requiring strip surgery.
FUT/Strip Harvest procedure: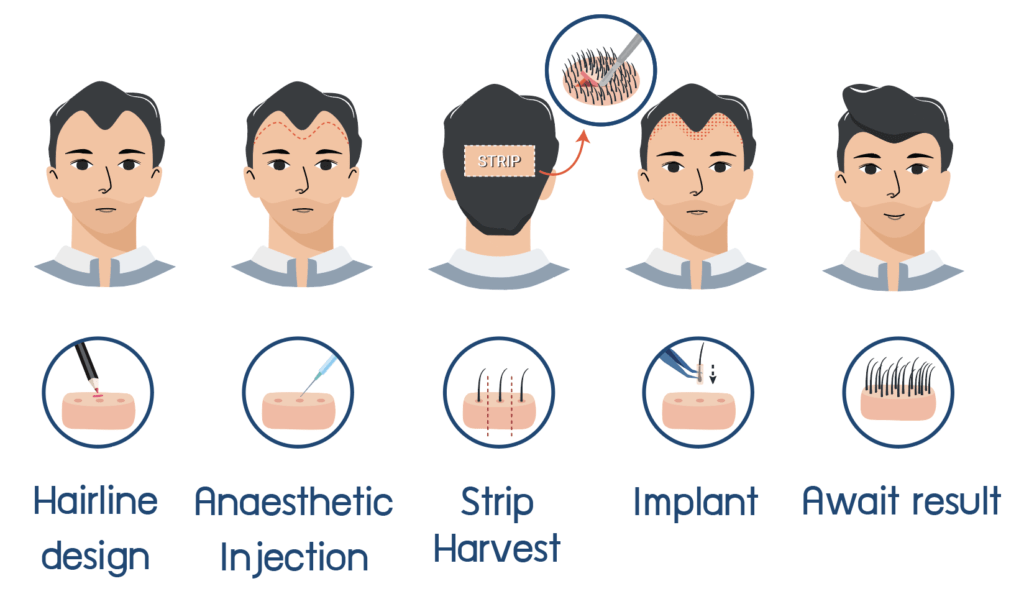 Advantages of FUT:
FUT surgery can be done for patients who require large numbers of grafts to fill a large area of low density
Little cosmetic change in hair style after surgery
Shorter surgical time compared to FUE, improving graft survival
With professional techniques, scars can barely be seen much like FUE
Disadvantages of FUT:
A long horizontal scar can be visible at the back of the head from the strip of skin removed
Must return to remove sutures
More difficult wound care
Longer recovery time
Keloid scars may form
Who is suitable for FUT/Strip Harvest:
Those suffering hair loss, receding hair line or baldness
Men and women of all ages
Patients with a small donor area
Patients requiring a large number of grafts
How long does FUT/ Strip Harvest take
The procedure takes 4-6 hours depending on each patient's needs. We aim to complete the procedure in a timely manner as grafts must be re-implanted as soon as possible to reduce the 'out-of-body' time and improve survival rates.
Is FUT/Strip Harvest safe
The simple answer is yes. FUT is the first surgical technique of hair transplantation and continues to be a widely used procedure around the world. Modern advances in medicine have been adopted into the procedure and a lot of research has been done to develop the technique. There are still risks of surgery such as bleeding and infection, and you should discuss this with your surgeon at Bangkok Hair Clinic.