Frame your face
Eyebrows are the crown of the face and eyebrow transplantation can create a cosmetically beautiful, permanent appearance for patients suffering from thinning eyebrows.  Eyebrow transplantation at Bangkok Hair Clinic is performed much like hair transplantation but takes only 2-3 hours to complete. Strong, single, permanent hair follicles are chosen from the donor area and is implanted in the eyebrow area, blending seamlessly with the patient's natural brow. This is a highly artistic procedure, and each brow is designed individually to achieve a natural appearance, density, and angle for a beyond satisfactory result. Eyebrow transplantation requires fewer hair follicles but a much higher degree of precision and artistry, which is our focus at Bangkok Hair Clinic. 
Eyebrow Transplantation (EBT) procedure: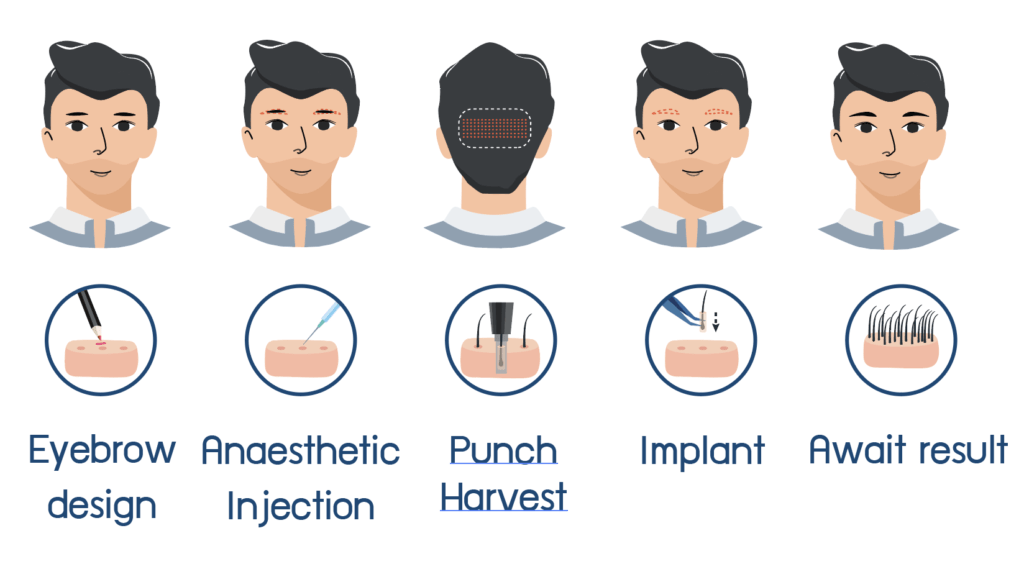 Why have Eyebrow Transplantation (EBT) at Bangkok Hair Clinic
Our surgeons specialize in crafting the perfect brow for every individual. We use single hair follicles to imitate the fine appearance of a natural brow and implant them at the precise direction and angle to ensure that it blends beautifully with your brow. At Bangkok Hair Clinic, we use smaller follicular punches and a technique to hide wounds of transplantation to ensure a fast recovery. With these techniques, patients can witness instant results after their surgery and can show their brows off within a few weeks. In only 2-3 hours, you can have a permanent, denser eyebrow!
How long does Eyebrow Transplantation (EBT) take
The total time to create your permanent eyebrows is approximately 2-3 hours. After the procedure, the implanted hairs will continue to grow for 2-3weeks before falling off as part of their life cycle. New hairs will grow afterwards and will remain there permanently.
How long will my transplanted eyebrow grow
The hairs implanted into your eyebrows during Eyebrow Transplantation (EBT) will behave like your natural hair and grow longer than the rest of your natural brow. You will have to trim or cut these hairs as they grow out just like your hair.
Is Eyebrow Transplantation (EBT) safe
Eyebrow Transplantation is a minor operation and is considered safer than hair transplantation. The procedure is done very quickly with extremely few complications or side effects.